John Hartford - Mark Twang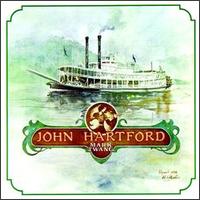 Liner Notes
"This album was recorded at the Sound Shop in Nashville, Tennessee. Claude Hill was the Engineer and Mike Melford the Producer. The entire
album is dedicated to the memory of a dear friend- Bob Burtnett of Chillicothe, Illinois who passed away November 28th, 1975 and will be missed
by all of his friends up and down the Illinois, Mississippi, Ohio, and Tennessee Rivers. A move is under way right now to name a navigation
light for him on the Illinois River.
The water color of the Pittsburgh and Cincinnati Packet Virginia was done by Willy Matthews. Thanks to Benny Martin for allowing me to
breathe on his name in Tater Tate and Allen Mundy and apologize to everyone I had to leave out. There were no overdubs or electronic effects
used. The feet were picked up through a piano pickup on a piece of particle board. All pickups and pre-amps were Barcus-Berry, the banjo was a
new GTR Hearts & Flowers Model tuned low, the guitar was a Noble and the fiddle didn't have any kind of label in it at all.
"I made up every one of these songs (as much as you can make up anything) and they are published by John Hartford Music, BMI except for
Skippin' in the Mississippi Dew which is published by Fantasy Music, BMI and Little Cabin Home on the Hill which was written by Bill
Monroe and Lester Flatt and published by Peer International and Dueling Faces (Banjoes) who nobody seems to know who wrote."
Last but not least...A disclaimer by Claude Hill:
"The seeming technical imperfections in this recording which may be indiscernible to the listener were included at the request of the
artist.-Claude Hill"

Tracks:

---

Skippin' in the Mississippi Dew (Hartford) - 3:00
Long Hot Summer Days (Hartford) - 3:38
Let Him Go on, Mama (Hartford) - 3:50
Don't Leave Your Records in the Sun (Hartford) - 2:25
Tater Tate and Allen Mundy (Hartford) - 3:40
Julia Belle Swain (Hartford) - 3:45
Little Cabin Home on the Hill Waugh... (Hartford) - 1:12
Austin Minor Sympathy (Hartford) - 6:45
Lowest Pair (Hartford) - 1:05
Tryin' to Do Something to Get Your... (Hartford) - 5:30


Credits:


---


John Hartford: Banjo, Guitar, Violin

Production Credits:


---


John Hartford: Liner Notes
Michael Melford: Producer
Claude Hill: Engineer
Willy Matthews: Art Direction

---