John Hartford - Headin' Down into the Mystery Below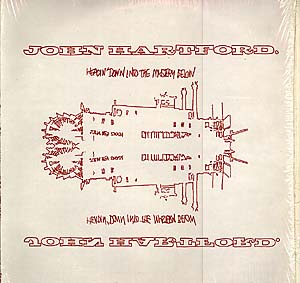 Liner Notes
I must go down on the levee again
The muddy river and sky
And all I ask is a sternwheel boat
And some marks to steer her by
The pull of the wheel, scapin' out on the roof
The pilothouse windows shakin'
A full moon in a Missouri sky
And a foggy morning breaking
The lyrical portion of this album was worked out on vertically held 3x5 cards.
The banjo and the guitar are by GTR, the violin by Barcus-Berry
The dancing was done on a 3/4" 4'x8' sheet of new grade A unfinished plywood.
Poetic license borrowed Antelope Light from over on the Mississippi for one song.
Numerologists Note: Rich tells me the marine radio was dubbed on track 13.
I must go on the levee again
For the river's up and she's wide
And hear some lonesome whistle
A call that cannot be denied
And step on board some southbound boat
And sail all the way to the sea
At home on a muddy old river
Is where I want to be
"Beatty's Navy" (The towboat "Claire E. Beatty") was recorded from the pilothouse of the "Julia Belle Swain" at Massengale Rock, Mile 446.0,
Tennessee River, 18 miles below Chattanooga, while the former was raising the sunken towboat, "Sarah E. Thomas" in 1974. This past January,
Capt. John Beatty lost his wife's namesake in the ice at Markland Dam on the Ohio River in a valiant effort to remove some barges that had
drifted down on the piers. As this is being written salvage efforts are underway and by the time this album comes out we'll once again be able to
hear his beatiful collection of whistles.
This album was recorded at the Sound Shop in Nashville, Mike Melford produced, Rich Adler engineered, and backup vocals were sung by Jack
Greene, Jeannie Seely, Billy Ray Reynolds, Lisa Silver, and Diane Tidwell.
I must get a job on the river again
Lead a river rat's vagrant life
Paintin' stairs, movin' chairs
Sleep on deck sometimes
Stories heard on the lazy bench
Fixin' the searchlight's arc
Carryin' coffee up to the old man
Stumblin' in the dark
So
Here's to you, a real steamboat
With double swingin' stages
with compound condensing engines
and real old-timey lookin' guages
May your wheel be free of driftwood
May you never run aground
May all your winds be tailwinds
And may all your trips be down*
Thanks to Keith and Penny Case, Michelle Kingsley, Jane Covner, Marie Barrett, Ruth Ferris, Fred and Grace Way, C.W. and Lucy Stoll, Rip
Ware, Bob Reynolds, Dennis, Libby, Moon, and Carol Trone, Doc Hawley, Carl Shelton, Ed Winefred, Sam Centanni, and John Masefield.
A single wave. . .still curling
Down the length of the harbor.
Enroute. . .1978
*Stream
Tracks:

---

The Mississippi Queen - 3:30
Mama Plays The Calliope - 2:45
See The Julia Belle Swain - 2:30
On Christmas Eve - 3:20
Natchez Whistle - 2:55
Kentucky Pool - 2:30
Miss Ferris - 7:00
Paducah - 2:10
Headin' Down Into The Mystery Below - 5:30
Beatty's Navy
In Plain View of the Town - 2:30


Credits:


---


John Hartford: Banjo, Guitar, Violin
Jack Green: Vocals
Jeannie Elley: Vocals
Billy Reynolds: Vocals
Lisa Silver Reynolds: Vocals
Diane Tidwell: Vocals

Production Credits:


---


Mike Melford: Producer
Rich Adler: Engineer
---