John Hartford - All In The Name Of Love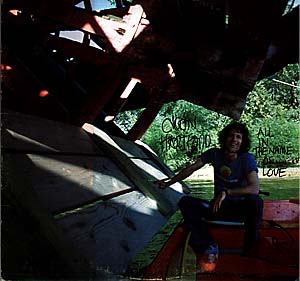 Liner Notes
It's trying to be real cool and soft
So I won't take the chance and turn you off. . .
And not to get to know you, just because of love,
That makes me come on slowly
In an underground railroad station, just out of the rain
So much depends on the six o'clock train and a girl. . .
with green eyes
This album was recorded on Tuesday and Wednesday, April 5th and 6th, 1977 in Nashville, Tennessee at the Sound Shop, right next door to the
Hall of Fame, Motel (just like the last one.) Mike melford did the producing and coordinating and wrote out the number charts, Rich Adler did
the engineering, Benny Martin played the fiddle, Sam Bush, the mandolin, Buddy Emmons, the steel guitar; Roy Husky Jr., Accoustic Bass,
Henry Strzelecki, Electric Bass, Hargu "Pig" Robbins and David Briggs, the piano, Kenny Malone and Larrie Londin, the drums, Jimmy Colvard,
electric and acoustic guitar, and the old trapper himself, Curly Seckler, sang the harmony parts.
The cover photograph is by Michelle Kingsley, the liner photograph by Bill Dibble.
We can boogie over here,
We can boogie over there,
Come on babe,
We can boogie everywhere
Direction: Keith Case
Stone County, Denver, Colo.
I used Doc Cullis' Low Banjo again and a Gibson I borrowed from George Gruhn after the airline broke mine on the way to the session.
All of these songs are original except for "In Sara's Eyes" and "Don't Try and Hide Your Tears From Me" co-written with Marie Barrett, and the
melody of "Cuckoo's Nest" which I heard first from Charlie Collins. These songs were all published by John Hartford Music, BMI, except for
"Gentle On My Mind", "Boogie", & "The Six O'Clock Train and a Girl With Green Eyes" which were published by Ensign Music, BMI.
It isn't that I wouldn't want to make it all come true
Baby if I had the chance to be alone with you
It's watchin' how you operate, when the chips are down,
That makes me come on slowly.
Nashville, Tennessee
Summer, 1977

Tracks:

---

All In The Name Of Love - 2:34
Cuckoo's Nest - 3:15
In Sara's Eyes - 2:30
Gentle On My Mind - 4:34
Boogie - 2:29
The Six O'Clock Train and a Girl With Green Eyes - 3:56
Don't Try To Hide Your Tears From Me - 2:50
The Ten Chord Blues - 4:32
Dancing In The Bathtub - :57
The Deck Hand's Waltz - 3:18
Also Love You For Your Mind - 2:53


Credits:


---


Buddy Emmons: Guitar (Steel)
Sam Bush: Mandolin, Vocals
John Hartford: Banjo, Guitar, Violin
Benny Martin: Violin
David Briggs: Keyboards
Jim Colvard: Guitar
Roy M. "Junior" Husky: Bass
Larry Londin: Drums
Kenny Malone: Drums
Hargus "Pig" Robbins: Piano
Curly Seckler: Vocals
Henry Strzelecki: Bass

Production Credits:


---


Michelle Kingsley: cover photograph
Bill Dibble: liner photograph

---